The Sad Passing of Fr Joe Kearney SAC
15th May 2020
It was with sadness that we heard Fr Joe Kearney passed away in Perth on the 15th of May,
2020, just shy of his 99th birthday.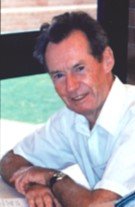 Fr Joe served in the Geraldton Diocese as the Chaplain to the Aboriginal Community in Geraldton during the years 1987 - 1996, operating from Gregory Street and St Joseph's Church, both of which are in the suburb of Beachlands in Geraldton. After he retired to Perth he would happily supply in various parishes, assisting Clergy to go on holidays or sabbaticals. Wherever he went he seemed to gather life-long friends.

Fr Joe was born in Essendon, Melbourne, in 1921 and moved to Hepburn Springs in Victoria in 1928 where his family became the owners of a guesthouse. He attended Primary School in Monee Ponds and Daylesford before going onto to secondary school at St Patrick's Christian Brothers College in Ballarat.  It was there, that during a speech by Bishop Raible in 1937 he first came aware of the work of the Pallottines.

Three years later he entered the novitiate of the Pallottine College in Kew, and he was Ordained to the Priesthood at St Patrick's Cathedral on July 28, 1946.

Fr Joe's relationship with Western Australia began in March 1948 when he was posted to Beagle Bay in the Kimberleys. He remained in the Kimberleys in places such as Balgo, Broome, Derby, Wyndham to name a few, until 1969 when he was voted to the position of Provincial Leader of the Society and moved to Pallottine College in Kew to take up the position that he held for the next six years.

In 1981 Fr Joe moved west once more as the Rector of the Pallottine Centre at Rossmoyne, Perth, when the centre was still an active centre for those Aboriginal students who wished to move to Perth to study.

At the age of sixty, in 1987, Fr Joe moved to Geraldton and took over Fr Kelvin Kenny's Chaplaincy among the Aboriginal Community, as Fr Kelvin was not well. Fr Joe worked with the small band of locals that belonged to the Union of Catholic Apostolate (i.e. the Pallottine family) already working together with the Aboriginal Community.

In 1996 Fr Joe retired back to Rossmoyne but remained the ever active man of God until 2008 supplying in various parishes 'out and about'.

At the grand age of 80, having had plenty of time to reflect on his life, Fr Joe published his book, 'Growing in Faith - Ramblings of a happy old man' available through Spectrum Publications.
Further Links
Due to Covid-19 restrictions: Link to view Fr Joe's Funeral - Thursday 21st May 11am.
Tribute: St Patrick's College, Ballarat.