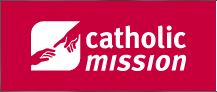 Catholic Mission Vision Statement
'€œLove one another. Just as I have loved you, you also should love one another.'€ Jn 13:34
Catholic Mission shares the dream of our Creator God from before time began, seeing all persons as made in the Creator'€™s image and likeness. All people are gifted with great potential for growth to reach fullness of life and happiness, and are worthy of respect.
Catholic Mission shares the Church'€™s responsibility for a world where all persons, free from any discrimination and free from all barriers to life, can reach their full potential and happiness. This will allow all to live their lives in full dignity, as the Creator God intends.
Info taken from Catholic Mission
Contact: Rosemary Taylor
Diocesan Director of Catholic Mission
PO Box 2044, Geraldton WA 6531
Ph: 08 9964 2716
Email: This email address is being protected from spambots. You need JavaScript enabled to view it.