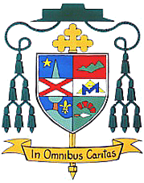 Bishop Justin Bianchini's Crest
The green Ecclesiastical hat sits at the top of the crest with six tassels flowing from each side. These symbolise it is a Bishops crest and not a Cardinal or Archbishop etc.
The simple pale cross behind the shield represents the status of a Bishop also. This is known as the St Mauritius Cross and is the same cross used on the Diocesan Crest.
The shield on the crest has two sides.
The left side of the Bishop's crest contains the Diocesan Crest. 
The star is one of the many symbols for Mary, the Mother of Jesus, and is known by this star as 'Our Lady Star of the Sea".
The diagonal red cross represents the name given to the township of Geraldton by Captain Fitzgerald, the WA Governor at the time, and is from his Irish Fitzgerald family 'coat of arms'.
The 'fleur-de-lis' flower is from a French legend that Clovis, King of the Franks, received the 'fleur-de-lis' as a divine gift in return for his conversion to Christianity in 496.  It is also a symbol of Mary.
The 'Cyprus' tree is a symbol of Pope Leo XIII, the reigning Pope when Geraldton became a Diocese.
The right side of the crest is in three sections
The green mountain represents the mountains of northern Italy is where the Bianchini family originated from.
The letters A and M – mean 'Ave Maria'. A symbol of the Faith of the Bianchini family, where the Bishop grew up with the practice of daily prayer and the Rosary.
The trowel and an arch of stone symoblises his father's life as a stone mason and his three brothers who were in the building trade.
The Latin motto on of the crest, "In Omnibus Caritas", translates as "In all things love".
A principal the Bishop has lived by in his Priestly Ministry and Episcopate.