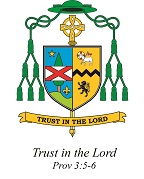 1 September 2021
Dear People of the Diocese of Geraldton 
RE: Resignation of Bishop Saunders and Appointment of Bishop Morrissey as Apostolic Administrator of Diocese of Broome.
I would like to let you know that on Saturday the 28th of August 2021 Pope Francis accepted the resignation of Bishop Christopher Saunders as the Bishop of Broome.
Bishop Chris has been a priest in the Diocese for 45 years and Bishop for 25 years.  
Until such time as a new Bishop is appointed, I have been appointed by Pope Francis to be the Apostolic Administrator of the Diocese of Broome. I will continue to be the Bishop of Geraldton, as nothing has changed in my leadership of the Diocese of Geraldton.
For the Diocese of Broome, I will be appointing Monsignor Paul Boyers from that Diocese to administer and lead the Diocese of Broome on my behalf for the day-to-day operations as my delegate.
My role now as Apostolic Administrator will require of me some time to be spent in the Diocese of Broome during this interim period until the new Bishop is appointed.  This means that my diary will be much tighter, and I will have to plan things a little bit more extensively over this interim time.
As we pray for each other as People of Faith, I ask that you pray for Bishop Chris in his retirement.  I would also ask for you to pray for the people of Broome that they will continue to know the love, care and support of the wider Church within Australia as they await the appointment of their new Bishop.
Yours sincerely in Christ
The Most Rev. Michael H. Morrissey
Bishop of Geraldton