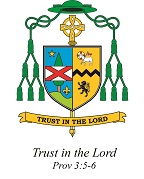 Thursday 22 August 2019
Yesterday, the Victorian Court of Appeal upheld the verdict of historical sexual abuse allegations against Cardinal George Pell in a 2-1 decision.
I do respect the decision of the court as many people come to terms with what has happened. As we know there have been two trials and now the decision of the Court of Appeal.
As we know Cardinal Pell, and his legal team, will decide whether to appeal to the High Court of Australia which is his right as he maintains his innocence. The decision of whether he remains a Cardinal and a Priest will be the decision of the Vatican and the Pope himself. I expect they will wait until the appeal process is completed.
I hope that the man who brought this matter before the police and courts is receiving good support from his family and friends in what has been a very public case. This long legal process would have been very difficult and challenging for him.
For many people, this process of trials and appeal has been a traumatic experience, for victims and their families, for faithful people in the pews of our churches, for priests, religious sisters and brothers and even for bishops and religious leaders. Many will find this judgement difficult for a whole range of reasons; others will see justice done through this judgement. I would hope we are able to respond and speak with each other with a sense of civility and dignity.
I remain committed as your Bishop, with the Diocese of Geraldton, to providing pastoral support to all people who have suffered from abuse and to Catholics who have found their Faith severely tested. I will continue to ensure that our Catholic Churches and Schools are safe and welcoming environments for our children and vulnerable Adults.


Most Rev Michael Morrissey
Bishop of Geraldton