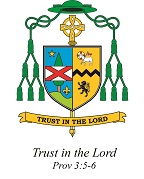 BISHOP MICHAEL MORRISSEY
2021 CHRISTMAS MESSAGE
DO NOT BE AFRAID
"Do not be afraid; listen, I bring you news of great joy,
a joy to be shared by the whole people".
These are the words spoken to the shepherds in Luke's Gospel after the birth of Jesus in Bethlehem. The Angel also addresses these words of encouragement to all of us,  whether we live in a town or the remote areas of our Diocese!
Christmas is celebrated every year despite the humidity and heat. Hopefully, the  beautiful rain will bless our pastoral areas with growth, thus lifting our spirits. Christmas, the birth of Jesus in Bethlehem, is celebrated by people all over the world, in every country and every place. The Shepherds receiving this news, are a reminder that God's Good News excludes no one, even those to whom the world might consider insignificant and not worthy of good news. 
Jesus' birth in Bethlehem is a call to listen and rejoice with joy, giving hope and meaning to life.  Through his life and words, Jesus allows us to discover our spirit, and the Holy Spirit, who is deep and abiding in this land, and amongst the First Nations People who have lived here for thousands of years. Christmas is a gift for all of us to recognise what matters most in our lives, and those of our families and friends. Christmas reminds us to be open to remembering and supporting those who have suffered so much this year especially, as a result of the Covid pandemic, and all who are still experiencing the impact of Cyclone Seroja on their homes, businesses and farms. The Infant Jesus, with Mary and Joseph, reminds us that there is always hope when we come together, listening to each other, to not be afraid, as God has come amongst us in Jesus.  Together we celebrate Christmas with joy as we gather with our community and our family and friends, giving thanks for the gift of faith and the gift of each other.
May you have a safe and blessed Christmas and a New Year full of hope and blessings.
 
The Most Rev. Michael H. Morrissey
Bishop of Geraldton